I sanded the inside of the bottom with a disk sander. All the old varnish and new epoxy had to be sanded off. I used quite a bit of sanding disks, as the old varnish gummed up the disks a lot.
Next, the side decks, 5 layers of 3/4" by 2" fir, were laminated in place. The wide side decks will add a lot of stiffness to the hullsides, so there won't need to be a lot of structural bulkheads.
After gluing the decks, the 1 1/2" by 3" cabin posts were fastened in place.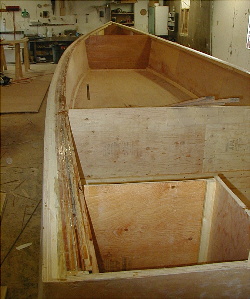 Here is the Glen-L 12' Power Skiff that I started building before turning the hull. My dad is also starting to build his 20 footer, so the shop is getting a bit crowded. To see the progress on his boat, check the link below.