A bar sink was installed in the galley, and a faucet was installed in the head. I don't have hot running water, so I just connected the cold water line to both faucets. A pressure water pump was installed under the head counter, with a switch to turn it off when not in use.
An ice box with four inches of insulation is under the galley counter just aft of the stove space.
A fold-out garbage bin is across from the galley, which consists of a plastic garbage can screwed onto the inside of a door.
There is a sliding door under the dorade vent beneath the solar panels.
The table folds out onto sliding supports.
The Sun-Mar composting toilet came with a 12V exhaust vent that was much too loud, I replaced it with a Vetus 12V ventilator, which is much better. Under the box to the right is a diaphram hand pump connected to the toilet to pump out any excess liquid into another container, to be disposed of properly.
The windows are held open at a 45 degree angle with a bent brass rod stuck in a hole in the window sill.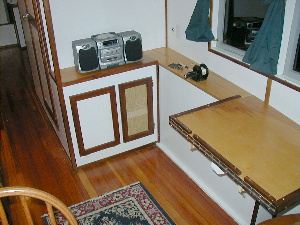 Table and off-centerboard trunk.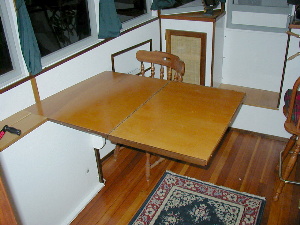 Table folded out.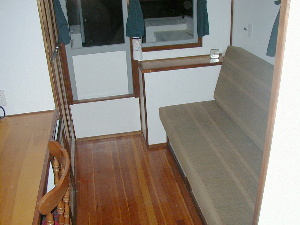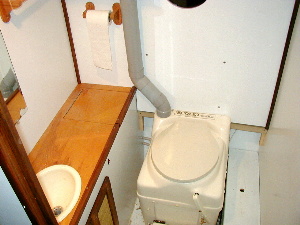 Composting toilet in head