The battens for the upper parts of the windows were soaked for a few days, and then clamped to a jig to dry. They will be used to hold the plexiglass on the window frames.
The window frames will be painted before assembly.
More sheathing, sanding, filling, sanding, and some of the wiring was installed.
The cabin sides and window frames were painted with latex house paint before installing. The window glass was 1/4" plexiglass set in frames with battens nailed on with brass brads. The opening windows were installed with butt-hinges, the other windows were screwed in place. All the windows used up 3 4-by-8 sheets of plexiglass.
I still don't know how soon I'll loose the shop, could be as early as April 1, so I will have the boat ready to move if neccessary.
I strung all the wiring and hoses so I can start to install the interior panelling.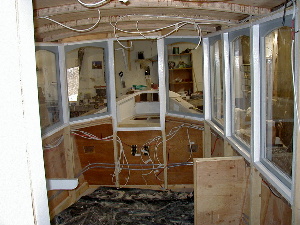 Lots of wires