These are all the boats that I have cruised on.
Pilgrim was a 41' Piver Trimaran that My Dad built in 1969, and our family cruised on for a year, from Chicago, down the Mississippi to the Gulf, and on to The Bahamas.
Pilgrim II was a 48 foot motorsailer that My Dad designed, and he and My Uncle built in 1977. My Uncle's family cruised from Chicago, down the Mississippi, and to The Bahamas. Our family took over the boat in Miami, cruised to The Bahamas, Up the East Coast, Through the Erie Canal, Great Lakes, and back to Chicago.
Pilgrim III was a 34' Colvin Sharpie that My Dad built in 1983. I cruised with him from LaCrosse, Wisconsin to Kentucky Lake.
The first boat I built was "Whippoorwill", a Wharram Tiki 26 catamaran. I launched it in Minneapolis, Minnesota, in 1989, and took it down the Mississippi river and Tenn-Tom Waterway, and then on to Marathon, Florida Keys. I cruised in company with My Parents on Pilgrim III from Alma, Wisconsin to Punta Gorda, Florida. My intention was to sail on to the Bahamas, but that never happened. On that cruise, I fell in love with river cruising, but a sailboat was not the ideal boat to use for that.

After selling the cat, I designed and built a 26 foot river cruiser that was powered by a 9.9 hp Yamaha Four Stroke outboard. "Heart of Gold" was launched in Boonville, MO in the fall of 1997, and I took it to the Florida Keys, and then back up to LaCrosse, WI and then back down to Fort Myers Beach, Fl, Where I lived aboard for another Year and a half.
I decided that I really liked the lifestyle, but I needed a bigger boat.
What I needed was a permanant livaboard home, with plenty of space and headroom. I wanted it to be as inexpensive as possible to build and run, but I also wanted classic styling.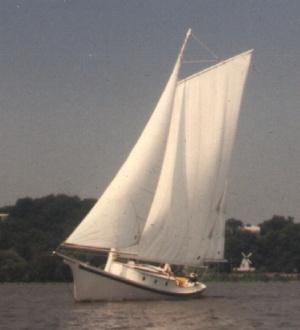 Pilgrim III in the Upper Mississippi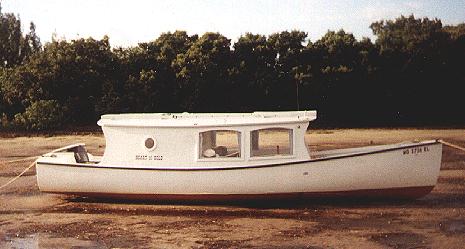 Heart of Gold, Anclote Key, Florida