After spending a year and a half in Ft Myers Beach, I am finally going on another cruise. This time I plan on exploring the Tennessee River. Since my boat seems to be a hurricane magnet, I will try to be inland for most of the hurricane season this year. I had no problems with the hurricanes last summer, I just went into a creek and tied off to the mangroves. (four times)
Thursday, June 2, 2005
It was raining all morning, so I didn't get underway until after noon. Got 39 gallons of gas at $2.45 a gallon. Fuel gage didn't work, turned out to be corroded inline fuse holder. Cloudy with light south wind, not much boat traffic. Amazingly, more than half of the large powerboats slowed down to pass me, I have never had this experience in South Florida, usually only about one out of ten slow down. Anchored in Pelican Bay, Caya Costa state park, with 4 other boats. Walked to beach, only saw two people on beach. I saw one wild boar running across the road.
Friday, June 3
Nice squall in the morning, I waited for it to end, then checked the radar (internet access is very useful, too bad Sprint is only in populated areas). Since it looked like mostly just light rain for a while, I took off. Made it to Sarasota. If I didn't have access to radar, I probably would have stayed put, since I don't like being caught out in squalls. Cloudy with occasional rain, surprising amount of boat traffic, mainly fishing boats. Quite a few rough looking boats in Sarasota, one of the last free anchorages left in South Florida. Will stay for the weekend, since I don't like sharing the waterway with all the idiot weekend boaters.
Sarasota is a nice stop, lots of good restaurants and shops downtown. There is a very large natural food store ½ mile from the anchorage. The anchorage can get a bit bouncy, it is exposed to the NW through S, and gets wakes from passing boats.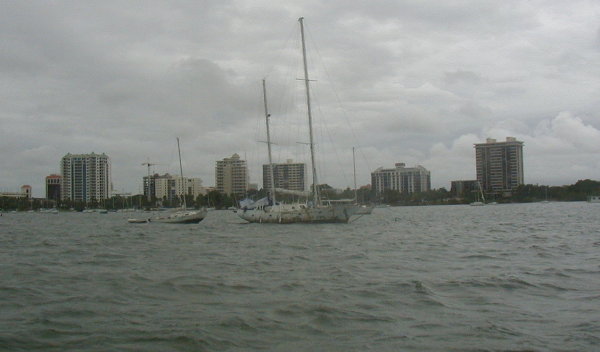 Well maintained boats in Sarasota anchorage
Monday, June 6
Nice clear day, for a change. Started nice and early, anchored off a spoil island just North of Clearwater. Not too much boat traffic. Tampa Bay was nice and calm.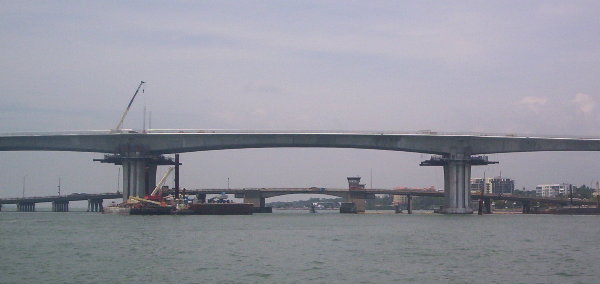 New bridge being built in Clearwater
Tuesday, June 7
To Anclote Key. Nice calm day. Got 27 gallons gas. Anchored near North side of Anclote Key. Walked to lighthouse. It has been restored. I was here 4 years ago, and was able to go up into the lighthouse, somebody cut a hole in the fence. I was told that they will eventually let people up there. I took a nice long walk on the beach, nice sunny day, hardly any people.
Wrecked boat, Anclote Key
Anchored with lighthouse in the background