Docked in Mark Twain Lake, Missouri.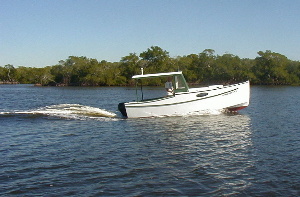 Cruising at about 8 knots, top speed for the 25 hp outboard
Pilgrim IV, the first Mark V 20, was launched in Mark Twain Lake in November, 2001 for a test run. She was towed down to Ft. Myers Beach in January, 2002 for a short cruise. In August, 2002, My Parents spent a month on the upper Mississippi, and then January and February, 2003 in SW Florida. They are very pleased with the boat.